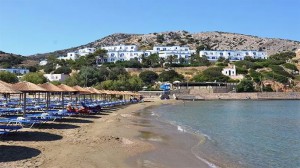 Galissas beach is one of the most beautiful and popular beaches of the island. This is a fully organized beach which offers all kinds of comforts.
Guests can swim in the crystal clear waters, relax on the golden sand, enjoy unique flavors in the taverns of the village and head to the chapel of Agia Pakou from where the view is magnificent.
The beach is easily accessible either by bus or by private boat.
Source: www.syrosisland.gr