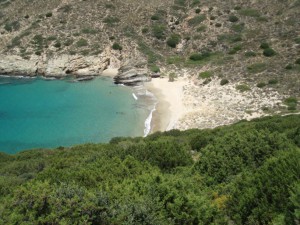 Aetos is a charming small beach on the Northwest part of Syros that offers an oasis of calm and serenity away from the tourist resorts.
It is a natural bay with turquoise waters and golden sand. It can be reached by boat from Kini or on foot either by taking a hiking path from Barbarousa (distance about 1 km.) or from Ano Syros (distance about 5.5 km.) Either way, swimming in the emerald waters will compensate one's effort.
For those looking for absolute privacy the small beach on the right of Aetos is definitely the perfect choice.
Source: www.syrosisland.gr