Today about 30 towers are preserved in the countryside of the island. They have been built by feudal Venetians in particular (and other Latin nobles) who used them as a base to exploit the real estate of the field they held. Their defensive line included battlements, murder holes, turrets, huge doors and small windows to protect the defenders. They were made of stone and had many floors and thick walls.
Bazeos Tower 
It is located right outside Sangri and stands out thanks to its architecture and excellent restoration it has undergone. Every summer it hosts Naxos Festival, one of the most significant cultural events of Cyclades.
Fortified with tall walls, turrets and small windows, the tower was built around 1600 but underwent some changes over the time to take its current form in 1789. It first housed the monastery of Timios Stavros (Holy Cross), which was abandoned at the beginning of the 19th century and in 1834 it became a property of the newly founded Greek state. For many years potters had their workshops in this tower. At the end of the 19th century, the property was sold to Bazeos or Bassegio family, members of which are mainly found in Italy and Brazil. Its owner, Georgios Marios Bazeos, is the last descendant in Greece and vice-president of "Aion" association.
Tower of Ypsili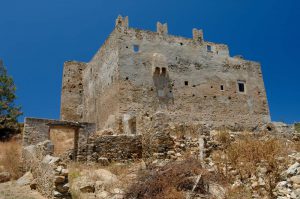 Starting the route from Chora to Apollonas, you will see the tower of Ypsili, or tower of Ypsilotera, or monastery of Ypsilotera, which is open to visitors. It was once a fortified monastery; the katholikon and the impressive frescoe, the towers, the murder holes etc are still preserved. It belonged to Kokkos family (there is an inscription "Iakovos Kokkos 1600"). The monastery was a revolution centre at the time of Naxos people uprisings against the oppression of Latin nobles.
Tower of Belonia 
Leaving the town and taking the main road to Galanado (4km away from Chora) and crossing Livadia of Naxos, you will pass by the well-preserved tower of Belonia which was built before 1610. In its interior there is the chapel of Agios Ioannis, both catholic and orthodox, which is rare to see.
Other towers:  
KRISPI-GLEZOS TOWER (Chora)
DELLA ROCCA BAROZZI TOWER (Chora)
BAROZZI TOWER IN CHALKI
MAKROPOLITIS TOWER IN KERAMI
TOWER OF MPARDANI AND ZEVGOLI IN APEIRANTHOS
Source: aegeanislands.gr
διαβάστε περισσότερα