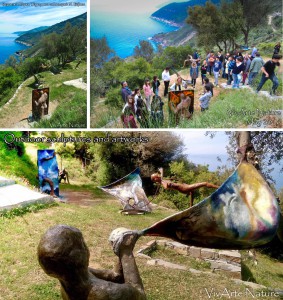 With the triptych nature, art and culture, we propose to our visitors a different intellectual and sensory experience and discover another Greece, Landscape architecture, sculpture, painting, photography and land art… are the tools for a creative Journey in nature guided by culture, "Geopoetry" inspired by the earth.
A unique spiritual and mental rejuvenation with the Aegean Sea as a background.
Programs:
A – VivArte Nature Site's visit:
Art in Nature is an alternative choice of an art program. It offers paths and terraces, where different artworks (sculptures, paintings, installation, photography) and proposals are developed, while simultaneously being surrounded by nature. Designed as an open study, you can converse with the artists and learn about their creative process. An intellectual adventure where modern art and ancient myths meet.
B – Walk to discover the "Mythic forest". A space created by artist and inspired by Greek mythology related to nature. A meeting with the primary gods, nymphs, heroes: Demeter and Persephone, Narcissus and Echo, the Hesperides, Pan Prometheus…
C – Interactive programs, "awakening the senses"
Art and Awareness, (a program open to everyone with or without artistic experience)
Workshop I "Greece through odors and colors" (painting)
The workshop "color and greek aroma" lasts 2 hours and takes place in an open place in the "Mythic Forest". The participants, (with or without artistic experience) with the help of the tutors, create painting work inspired by discrete greek odors. It is a creative game of touring in odors from the greek countryside like basil, lavender, oregano, sage, mint, thyme, eucalyptus, etc. After that, the odors are interpreted through the colors of abstract painting artworks. (The artworks are given as a gift to their creators).
Workshop II "Mythology and Body Art"
The workshop lasts for 3 hours and includes the introduction in greek mythology through the gaze of contemporary art. It is an original and interactive event with body art as the main activity. Painting, photography and body art, make the participants travel in a discrete mythological theme. Then they integrate it in mythological representation picture. After that, follows art photography, with the help of tutors.
Workshop III "Looking at another Greece" (photography)
The workshop lasts 3 hours. It is about people who love photography and desire to write down their personal journey to another kind of Greece. Travelling with a camera, an awareness study in the observation of the natural landscape of South Evia. A journey into new images. Walks in the Greek nature (flora and fauna) and with the help of the tutors to find and to capture photographically all these things that a visitor cannot discover with a simple walk.
This program will appeal to everyone who desire to:
– get away from the daily routine by combining entertainment with art and creativity
– experience an alternative kind of holiday – a cultural and recreational getaway – by taking part in one of our "VivArte Nature" Art and Awareness Workshops
For artists, the "VivArte Nature" is a place of inspiration and awareness, expression and creation, a place of experimentation and exploring new ideas.
For art-lovers, and for every sensitive person, it is a rare experience of participation in workshops which are aimed at acquaintance and familiarization with the arts, in a unique setting of spiritual and mental rejuvenation.
Website: www.vivartenature.com
In the Anthidona region, first mentioned by Homer in the Iliad, you will find the ANTHIDON ESTATE. Set amphitheatrically, the estate blends in completely with the uniqueness of the scenery, combining a breathtaking mountainous and sea landscape with α stunning panoramic view of the Evoikos gulf. On our estate, one can enjoy a unique agrotourism experience, clean air and a tranquil environment away... read more
With the triptych nature, art and culture, we propose to our visitors a different intellectual and sensory experience and discover another Greece, Landscape architecture, sculpture, painting, photography and land art… are the tools for a creative Journey in nature guided by culture, "Geopoetry" inspired by the earth. A unique spiritual and mental rejuvenation with the Aegean Sea as a background. Programs: A... read more