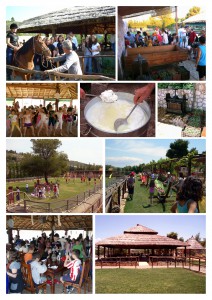 Traditional Park Dimaki is located in the picturesque village of Theologos, only one hour away from the capital city of Athens (120km).
Visitors are able to relax in an environment that revives the old customs of Central Greece.
A guide will show you the old, traditional way of living in the hut, as well as the tools that our ancestors used to make their lives easier.
You will be fascinated by the tranquility of the environment and you can either lay in our hammocks, or ride our horses.
For groups of ten or more people, we can arrange to offer greek delicacies such as cheese pie, spinach pie and more. Price is fixed upon request.
For english speaking people, prior notification to their visit would be appreciated.
Website: www.parkodimaki.gr
Traditional Park Dimaki is located in the picturesque village of Theologos, only one hour away from the capital city of Athens (120km). Visitors are able to relax in an environment that revives the old customs of Central Greece. A guide will show you the old, traditional way of living in the hut, as well as the tools that our ancestors used to make their lives easier. You will be fascinated by the tranquility... read more