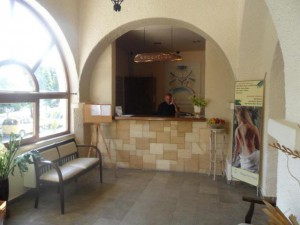 The curative baths are located seven kilometers west from the city of Sidirokastro. The curative springs are known from byzantine times, but the old facilities were ruined during the Balkan wars. In this area one may combine the care of one's health with a visit to the byzantine castle, Kerkini lake, Rupel fortress and the bridge of the Strimona river where Hercules completed the feat with "Gironi's oxen".
Curative Water
The temperature of the water is 43, 7- 55ο C
Characterisation: Superheated Na- Ca- K- HCO3- F-B hypotonic curative water of the municipality of Sintiki
Therapeutic Indications: Rheumatisms, spondylitis, spilled disc, neuralgia, myalgia, sciatica, joint ailments, gynecological ailments
Health thermalism facilities
A byzantine bath, 3 jacuzzi pools and 12 individual tubs operate in the hydrotherapy centre of the baths, while aromatherapy, chocolate therapy and clay therapy is provided. The temperature of the water in the facilities is 40-42oC. The baths remain open during the whole year, seven days a week and 24 hours a day. In the area, there is a hotel with a restaurant and other facilities for the care of the visitors.
Springs' Website: www.spa.gr
Source: www.thermalsprings.gr
Agkistro village is built on the Greek- Bulgarian borders, east of the valley of Strymonas. It is an exceptional alternating scenery, serene with lush vegetation and ideal climate conditions. During the reign of Filippos 2nd of Macedonia (4th century B.C.), mines of iron and gold operated in the Agkistro mountain, which along with Paggaio, funded the Alexander 's the Great Panhellenic campaign to Asia... read more
The curative baths are located seven kilometers west from the city of Sidirokastro. The curative springs are known from byzantine times, but the old facilities were ruined during the Balkan wars. In this area one may combine the care of one's health with a visit to the byzantine castle, Kerkini lake, Rupel fortress and the bridge of the Strimona river where Hercules completed the feat with "Gironi's... read more