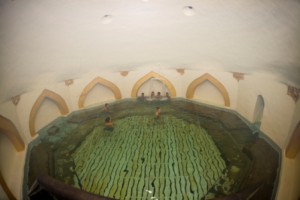 In the valley of Mygdonia, in a green oasis of 100 acres and only 2 kilometres east of the city of Lagadas, lie the homonymous curative baths. The evolution of the baths of Lagada is directely connected with the history, the social conditions, the traditions and the culture, as they were formed through the ages.
The first balneotherapy facilities in the region of Lagadas are dated back to 900 A.D. and tradition has it that the baths were created by the byzantine military doctor Ioustinianos. Today, two byzantine tanks from the years 900 and 1400 A.D. remain and are still used. Geographers and travellers in 1670 A.D. mention the byzantine facilities, with a special reference to the "magnificent marble group tub". The systematic organisation of the baths began in 1925 and today Lagadas is a big and modern thermal city.
Curative Water
The temperature of the curative water is 39ο C.
Characterisation: Hot Na- Ca- K- SO4- HCO3- F hypotonic, slightly radioactive
Therapeutic Indications: Balneotherapy for rheumatisms, arthritis, gynecological ailments, skin ailments, kidney problems. Mineral water drinking therapy for ailments of the gastrointestinal and urinary system.
Health thermalism facilities
The thermal city of Lagadas has two byzantine tubs, which date back to the 900 and 1400 A.D., two modern group tubs, 21 individual jacuzzis and 20 personal tubs. Face and body treatments, beauty and rehabilitation cares, personally adjusted for the needs of the visitors were created based on the curative water. The facilities are open throughout the year, seven days a week. In summer, it is open from 07:00 am to 23:00 pm and in winter from 08:00 am to 01:00 pm. In the thermal city there is a hotel and a restaurant.
Spring's Website: www.loutralagada.gr
Source: www.thermalsprings.gr