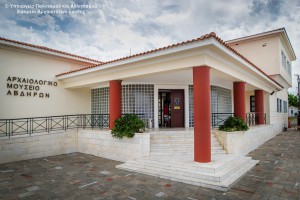 The exhibition includes objects found in the ancient city and its cemeteries and covers the period from the 7th century BC till the 12th century AD. Its main objective is educational. Displayed mainly the everyday lives of ancient people of Avdira through the objects used by ordinary people in their daily occupations. The exhibition is structured thematically. Each section includes items from all periods of the city"s life arranged according to their use. By doing so presents the
evolution of the city and become apperent the gradual changes in the lives of residents and the construction method of the same object. Illustrative texts, photographs, drawings, maps and diagrams provide additional information to the visitor.
The excavations in ancient Avdira began in 1950. Findings initially housed in the Museum of Kavala. Since 1973 (when the Prefecture of Xanthi incorporated into Prehistoric and Classical Antiquities, of Komotini) housed in the Museum Komotini.To 1976 the Ministry of Culture has taken action to build the Museum of Avdira. The decision for the foundation signed in 1984. In1985 the Community of Avdira granted for this purpose a plot in the village. Work commenced in 1989 and completed in 1992. Official receipt was made in 1993. In 1994 works began on preparing the exhibition.
The years 1995 – 1998 were selected and transferred ancient findings from the Museums of Kavala and Komotini. In 1997, approved from the Central Archaeological Council (CAC) the proposal for the exhibition program. In 1998 – 1999 were the work of re-exposure. The inauguration took place on 20 January 2000.
Source: Eastern Macedonia & Thrace