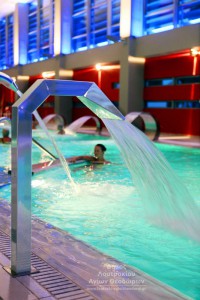 When you are seeking rejuvenation of the body and the soul, the only choice is the method of hydrotherapy at Loutraki Thermal Spa, in the city of Loutraki. Ancient "Thermes" was a well-known market town at the northern groove of the Corinthian Gulf and it is linked to the mythological "Artmemis Thermia", who was the protector of the thermal springs. The therapeutic powers of the thermal baths have been known since the time of Hippocrates, and the Spartians used them as a method of full recovery after the battle. Spa therapy yielded a lot of money to the Romans during the Roman Times, while they remained famous during the byzantine times. In 1870, the first establishments were built and just four years earlier the first official analysis of the springs was conducted.
The thermal springs of Loutraki provided, and are still providing, not only treatments but also prevention from various diseases. It has been confirmed that the hydrotherapy promotes the well-being and the revitalization of the body, while the beneficial results of the healing waters are known from the ancient times, when Xenophon refers to the use of this special water by the Spartans. The perennial value of the thermal spas has turned Loutraki into a very important tourist center and attraction for Greece and the country's first healing station. "The water of life" is the cradle of the thermal baths in Greece and it started operating in the early 20th century. In 1934, the building of exquisite architectural style that hosts the springs was built, it got restored in 2009 and then it was connected to the luxurious modern building of Loutraki Thermal Spa.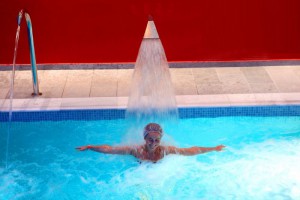 The Spa is located opposite to the city's seaside park, on 24 G. Lekkas Str. It occupies an area of almost 5000 m2 and there the visitor can find 4 swimming pools, 3 interior and 1 exterior, single and double cabins, sauna, hamam (Turkish bath), steam baths, gym, mud therapy, yoga, fine water showers, and a café as well. The staff is fully trained and qualified in the therapeutic techniques offered at the center.
Loutraki and Loutraki Thermal Spa are only 5 km from the Canal of Corinth-Isthmus and 80 km far from Athens. It is also easily accessible from the "Eleftherios Venizelos" International Airport, at most being a one hour drive. From the Suburban Railway Station of Corinth, you can take a bus or a taxi. From the center of the city of Loutraki the Spa is only five minutes on foot, taking the seaside pedestrian walkway and on your right side having the Geraneia Mountains, harmoniously hugging the city.
Source: www.mythicalpeloponnese.gr