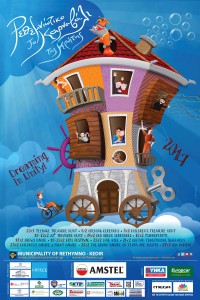 The Carnival celebration ends with the Ash Monday on the 27th of February. The Greeks leave behind every sinful attitude and non-fasting foods to prepare their bodies and souls for the Orthodox Easter. On Ash Monday we throw the traditional "Koulouma" based on the Greek Orthodox monks diet, a festive with vegetarian delicatessens offered in every village and in the town. Been soup, "lagana" bread and desert "Halvas" are the dishes of the day that you have to taste.
Join us during our Carnival Festive Celebration to learn more about the local history and the authentic identity of Rethymno. Witness the local community's cooperation between different groups of participants, see us working all together to a common theme passing the global message of unity and solidarity to the people.
The Carnival of Rethymno is a creative cultural institution which shows the special character of the local population and the local initiative and  involvement. This common passion is exactly what  aids the start up of many established theater groups, ateliers, hand-crafts, art venues e.t.c. here in Rethymno. All the floats are made by Rethymnian artists and are always based on recyclable materials. Also most of the carnival uniforms are made by local crafts, another way for people of Rethymno to work together and contribute to the local economy. 2.000 Rethymnians, including many Rethymnian entertainers, perform at the main events as well as promotional events leading up to the carnival. Last year we had 45 Carnival groups with 33 floats on the parade, 18.000 participants and more than 100.000 visitors of all ages from all over the world that had the opportunity to celebrate and enjoyed the Carnival.
Visit the Rethymno Carnival 2017 and participate to the most fun and creative Carnival festival of Greece.
Program Rethymno Carnival 2017
For further information visit www.rethymnocarnival.gr