Rethymno, the prefecture between the towns of Chania and Heraklio, abuts the Cretan Sea to the north and the Libyan Sea to the south. Initially the town of Rethymno, capital of the prefecture, was built on the cape of the northern shore.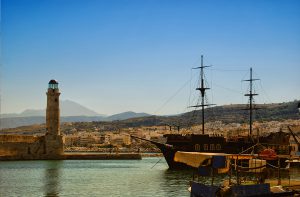 The developing town gradually stretched along the northern sandy beach, which has a total length of 13 km. The terrain of the prefecture is mainly mountainous with multifarious morphological changes such as imposing gorges, a large number of caves, lush valleys and small rivers. Mountains and mountain ranges dominate the interior of the prefecture. In the east rises Mount Psiloritis, or Ida as it was called during ancient times, with its sacred cave of Zeus, and south west the mountain range of Kedros; together the two massifs border the beautiful valley of Amari.
On the north easterly border of the prefecture rises Mount Kouloukounas also called Talaia Mountain, south of the town of Rethymno is Mount Vrysinas, and in a south westerly direction lies Mount Kryoneritis. A few areas of flat land can be found mainly in the northern coastal region between the massifs. There as well as along the south coast a large number of beautiful sandy beaches with crystal clear water have formed.
The "temperate Mediterranean" climate with its hot summers and its long periods of rainfall guarantees ideal temperatures ranging from 14º C in winter to 29º C in summer. Occasionally strong northerly and warm, indolent southerly winds interrupt the mild climate between the seasons.
Good-hearted and hospitable the villagers work hard, while they continue in the traditional way to grow olives, to produce oil, wine and raki and to make a living from stock breeding and dairy products. Apart from the traditional every-day life they also respect their religious holidays to the letter – Christmas, Easter, weddings, christenings and religious festivals.
They also remain faithful to the tradition of agricultural and stock breeding festivities, which are organised in the event of harvesting, testing the produce or any stock breeding procedure. Vine-harvest, the production of raki in traditional cauldrons, the shearing of sheep, and the collecting of olives is often turned into a true feast, during which friends and relatives gather and offer their help. Whenever they do not work or enjoy themselves drinking raki, their energy and sensitive creativity finds expression in handicraft and works of art.
In Rethymno a variety of popular crafts have been kept alive and are still practised such as pottery, basket weaving, woodcarving, stone masonry and weaving. Some villages are famous for exclusively practising a particular handicraft like for example stone masonry in Alfa, pottery in Margarites and weaving in Anoghia.
Source: www.rethymnon.gr