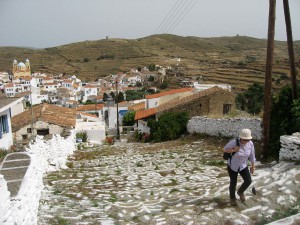 Despite being near to Athens – two hours from the port of Lavrio, three from Piraeus – Kythnos remains unknown and undeveloped for mass tourism, unlike others in the Cycladic group of islands in the Aegean. It retains its traditional character of whitewashed villages with narrow streets, wild countryside with spring and summer flowers. Many of our walking trails pass churches and arrive at one of the numerous sandy beaches on the island.
The island's history is one of the oldest in the Cyclades going back 9000 years. It was an economic and political centre in ancient times. Since then, the Byzantines, Venetians, Ottomans and Germans have all had an influence on the island. The hikes show these historical roots.
Our team of hiking guides is led by Katerina Filippa, one of the co-authors of the Kythnos Hiking Guide (published by Terrain Editions). She was born and brought up on the island and knows its history. She holds a First Aid certificate like our other guides.
Some of the trails go along rough mule tracks and are not suitable for very young children. However, Kythnos does not go much above 300 metres in height and the walks are not too demanding.
We hope you find interesting the walks and the cultural events. Also that you share and respect the island together with its friendly full-time inhabitants.
For further information please email info@hotelgalatas.com or telephone 0030 693 7788764.
Despite being near to Athens – two hours from the port of Lavrio, three from Piraeus – Kythnos remains unknown and undeveloped for mass tourism, unlike others in the Cycladic group of islands in the Aegean. It retains its traditional character of whitewashed villages with narrow streets, wild countryside with spring and summer flowers. Many of our walking trails pass churches and arrive at one of the numerous... read more