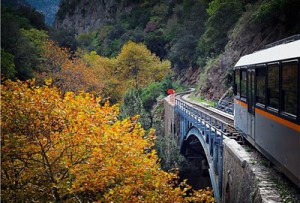 In 1889, Charilaos Trikoupis, Greece's Prime Minister at the time, decided to construct the rack railway. Specialized technicians from France and Italy undertook the construction of the track and it lasted seven years.
King George I was the first train passenger that took the first journey on March 10th, 1896. The purpose of the railway was to connect the region of Kalavryta to Athens and Patras since there was no other means of easy access.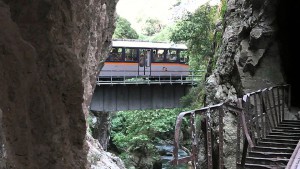 The railway track is 22 km long and it connects Kalavryta and Diakopto. It has the narrowest gauge in Europe, 0,75m.
The train has an average speed of 30-40km per hour and the journey takes approximately one hour.
Due to the large inclination, the track has several toothed parts.
Half way from Diakopto to Kalavryta the train stops to Niamata, Triklia, Zachlorou and Kerpini. The journey along the Vouraikos gorge is magic. You can organize an excursion with stopovers. Visitors can, for example, stop at the Zachlorou station and walk to the imposing monastery of Mega Spilaio.
Source: www.mythicalpeloponnese.gr