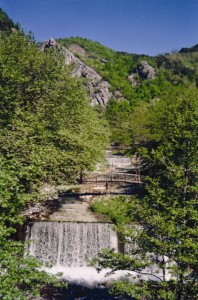 Loutraki baths (Pozar) are located in the municipality of Almopia, 13 km northwest of Aridaia. The word "pozar" means ember, burning coal. The area of the Pozar Baths is a natural sight, located in a green environment with plane trees and waterfalls. Tile paved paths and constructed wooden bridges aid the visitor follow the mountain paths and reach the complex of the 16 caves.
The open pool and the "ponds", which are naturally shaped in the bank of the hot river, offer the chance of bathing in a fascinating natural scenery. The visitors come to the baths from every corner of Greece either to receive the beneficial properties of the curative waters (therapeutic – relaxing), or to escape in the beautiful mountains with the caves.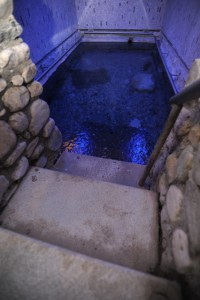 Curative Water
The hot springs gush for the bank of the hot river, with a temperature that reaches 37ο C
Characterisation: Homotherm HCO3- Ca- Mg- K- B- As hyponotic, slightly radioactive curative water of the municipality of Almopia.
Therapeutic Indications: Balneotherapy for rheumatisms, arthritis, ailments of the peripheral nerves, gynecological and skin ailments, sprains, fractures
Health thermalism facilities:
In the new hydrotherapy centre there are private pools, each functioning separately. Their dimensions are 3×3, 1.50 metres deep and temperature of 37 degrees. In the Old Hydrotherapy Centre there are 2 pools with dimensions 3×6 and with a temperature of 37 degrees and 2 smaller pools (Turkish bath like) with a temperature of 38 degrees. Moreover, there are 2 outdoor waterfalls, one of them having a temperature of 37 degrees and the other, which is mixed with cold water, has a temperature of 30 degrees. There is also an outdoor olympic – sized pool with a temperature of 37 degrees in the snack bar area. There are locker rooms in every space.
What's more, in the area of the thermal city there is a hotel with 10 double rooms and 2 triple rooms and a restaurant as well. It is open the whole year round, day and night.
Springs' Website: www.loutrapozar.com.gr
Source: www.thermalsprings.gr