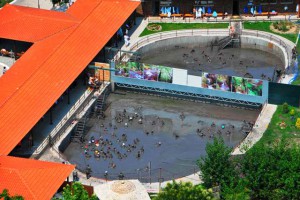 The health place of krinides, with its therapeutic clay and curative water, geographically belongs to a wider area with rich history that begins with the foundation of the city in 360 B.C. One of the most important archaeological sites of eastern Macedonia is situated in Krinides, Kavala. In this historic region one can come across the ancient thermae, the ancient agora, the ancient theatre of Filippoi, Lydia's place of baptism, the first Christian woman in Europe. So the visitor has the possibility to combine his physical and mental health and well-being with an archaeological tour, a journey through history and time.
Curative Water
The water that gushes from the spring has a temperature of 29oC. It is suitable for hydrotherapy, in the form of balenotherapy and water mineral drinking therapy.
Characterisation: Tepid Ca- Mg- HCO3 hypotonic curative water
Therapeutic Indications:
Balneotherapy for the ailments of the musculoskeletal system. Mineral water drinking therapy for the gastrointestinal and urinary system.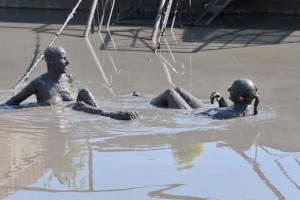 Therapeutic Clay
The therapeutic clay of krinides is the result of natural, biochemical, geochemical and biological procedures that took place in the area of the clay therapy centre, between a solid element, argil, a liquid element, hot mineral water, and an organic element from the plant world. The temperature of the clay reservoirs is 29ο C.
Characterisation: Peaty, argilic, organic therapeutic clay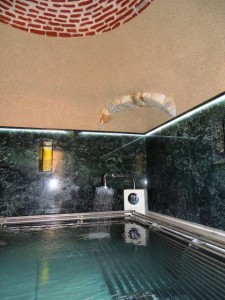 Therapeutic Indications:
Autoimmune diseases, rheumatisms and skin ailments.
Health thermalism facilities
The thermal city has a clay therapy centre, with two group tubs of clay for men and women and a hydrotherapy centre. The hydrotherapy centre is housed in a post byzantine building (old Turkish bath). The facilities are open from the 1st of June to the 15th of October, seven days a week from 08:30 am to 18:00 pm. Visitors can also find accommodation in the premises.
Source: www.thermalsprings.gr