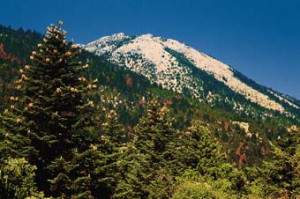 Parnonas also known as "Malevos" is the mountain range which divides two large counties of Peloponnese, Arcadia and Laconia. The highest peak of Parnonas is called "Megali Tourla" also known as "Kronio" and has 1936 meters altitude. The mountain ends in Laconia at the Cape Maleas, south of Peloponnese.
The natural beauty of the mountain and the traditional villages attract many travelers throughout the year. The best time to visit the area is during the spring season when the snow melts and forms small waterfalls. There are many signposted hiking routes which allow the visitor to admire the gorges, the caves, the waterfalls, the springs and the rivers of this amazing mountain. Climbers will love the challenge of reaching the top of the mountain. "Megali Tourla" (1936m altitude) can be reached through a large path which crosses an amazing gorge. In the beautiful villages of Parnonas you will find places where you can rent mountain bikes or four-wheel drives to explore the amazing locations of this mountain.
Parnonas has five gorges (Loulougas, Mazias, Zarbanitsas, Spilakion, Lepidas) where rare species of flowers blossom. Mazias gorge is the easiest for hiking whereas the Lepidas gorge is very demanding and you will need special equipment and knowledge to cross it.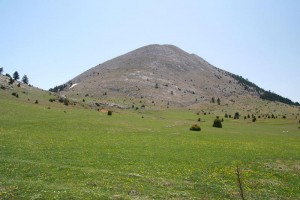 The name Parnonas existed already since the ancient period and the name meant "the ridge which shines". During the ancient times the mountain was also called "Kronion" because it was considered to be the sacred mountain of Cronus, who was the leader of the Titans.
There are signs of inhabitation already since the Paleolithic Period which continued throughout the antiquity until the byzantine years. The monastic life is quite strong here and the visitor can still visit some beautiful monasteries, like the known monasteries of Malevi, Loukous and the monastery of Elonas.
Parnonas is also a very important ecological zone in Peloponnese as it is covered with forests of firs, black pine trees, plane trees etc. Around the monastery of Malevi there is the "Juniperus drupacea" (Δενδρόκεδρος) tree forest which is the only one in Europe and has been classified as protected area of the "Natura 2000". At this mountain there are also many rare species of flora, some of them are known for their healing powers.
The "Wetland of Moustou" is a small lake with two artificial waterways and is located about 2km northeast of Astros. The wetland is also a protected area of the "Natura 2000" as the flora and the fauna here is extremely interesting. During the winter the wetland gathers millions of migratory birds which create a beautiful image. The artificial waterways flow to the shores of the nearby beach where the rare species of "Careta- Careta turtle" can be seen.
Source: www.discover-peloponnese.com/