On the northwestern side of Killini Mountain, in the plateau between its two mountain tops, is Ziria Athletic Centre. The center is located exactly where Little Ziria (2.080 m) and Great Ziria (2.374 m) are separated by the ravine Flabouritsa , only 10 km from Ano (Upper) Trikala. It is a place for fun and action and has parking for almost 200 vehicles.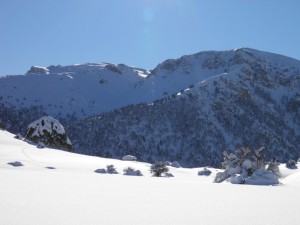 The Ziria Athletic Center has a ski slope with a baby lift 100m high and also a 450 m sliding lift. The personnel are helpful and ready to assist visitors, while equipment, boots, skis and security equipment are also available. Furthermore, ski lessons are given and there is the possibility of night skiing and skiing endurance, while the center is also suitable for the little visitors and their sleds. The space is decorated with a beautiful chalet at the base of the 500m long ski slope, where you can enjoy a hot beverage and various snacks. Apart from skiing, there are also more activities available, like renting a snowmobile or an ATV, and exploration starting from the small plateau.The morphology of the area is suitable even for beginners. Lake Dasio and Hermes Cave Next are right next door, where mythology has it that the restless god was born there. Two mountain shelters, on the east and west of the plateau, offer accommodation to the visitors after placing a reservation. We should also mention that the area is located within the boundaries of Killini, which belongs to the Natura 2000 network.
You can choose from a great variety of lodgings, like hotels, pensions and rooms to let, all located in the area. Climbing up Ziria (Killini) the sheer natural beauty and the view of the Corinthian Gulf and the opposite "Roumeli" (Central Greece) will charm you for sure. So, put on your skis and here we go!
Nearby destinations
Holy Monastery of Agios Vlasios: 8.8 km, 10 min
Mesea (Middle) Trikala: 11.4 km, 14 min.
Kato (Lower) Trikala: 13.8 km, 19 min.
Panagia tou Vrachou : 26.6 km, 38 min.
Ano (Upper) Trikala: 10.1 km, 12 min.
Source: www.mythicalpeloponnese.gr