To date, the theatre at Thoricus is the oldest known theatre in existence. Located north of Lavrion, almost adjacent to the city, it dates to the end of the Archaic era, between 525 and 480 B.C. But that is not its only distinction. Unlike Greek theatres built in later eras, it is elliptical rather than circular in shape, and has a rectangular, rather than circular orchestra. With 21 rows of seats, the theatre had a seating capacity of 4,000 people. On the east side of the orchestra, sculpted out of the natural rock, is the base of the ancient temple, and a room, complete with benches, also sculpted from the rock.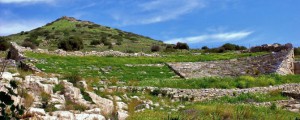 Dating from the mid-5th Century, the temple was used for meetings of the Demos' authorities, and, like the small temple and room complex of Dionysus, it also served the theatre when it was in operation; It had a wooden scene, which, unlike later theatres, was never replaced with one made of stone. The area of the theatre was never intended solely for theatrical performances, but was also used for meetings of the citizens of Thoricus.
Source: www.athensattica.gr
διαβάστε περισσότερα
Located at the end of Ermou street, the Kerameikos Archaeological site is one of the major archaeological sites in Athens. And though only a small portion of this ancient city quarter is open to the public, this site, home to the "Kerameis" (the potters) of antiquity, is a powerful and moving glimpse into the distant past. Also standing here are the ruins of the Dipylon Gate, the imposing double gates of the Themistocleian city wall, circa 478 B.C. Numerous tombs with "replicated anaglyphs" occupy the site as well, the original anaglyphs being safely preserved in the Kerameikos Museum, also located here.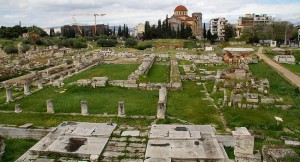 The notorious Demosion Sima, the public graveyard where ancient Athenians once buried their war heroes, is also part of this intriguing site. It is believed that Kerameikos took its name from one of two sources: the ancient Kerameis, potters whose workshops occupied the area, or from the name of the Greek hero, Keramos. The imposing gates were first brought down by Syllas during his conquest of Athens in 86 B.C., and the final destruction took place during the Herulian sack of Athens in 267 A.C. Thereafter, the area was used as a graveyard until the end of the Roman era in the 6th century.
Source: www.athensattica.gr
διαβάστε περισσότερα