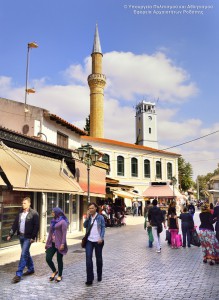 The Clock Tower was built in 1884, the era of Sultan Abdul Hamid B. In the decade of 1950 became architectural interventions and took its current form.
Behind the tower rises the minaret of the mosque of Yeni Mosque from the balcony where the muezzin calls the faithful of Islam to prayer. In the courtyard housed the religious authority of Muslims Rhodope, the Mufti of Komotini.
At the southwestern side of the assembly tower-mosque is the pedestrian shopping street of Ermou, while
the NE side, the traditional square of Hephaestus, is heaving laboratories tinplate, known teneketzidika, giving a unique color in the market town that lies around.
Source: Eastern Macedonia & Thrace
διαβάστε περισσότερα