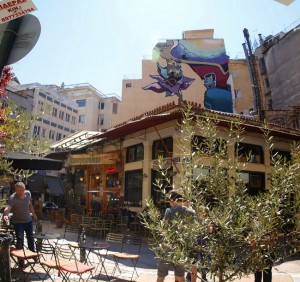 First mentioned in 1678 by the traveller Spohn as one of Athens' eight original neighbourhoods, Psyrri is one of the city's oldest and most historic areas. Framed by Athinas, Ermou, Pireos, and Evripidou Streets, it was established under Ottoman occupation, after Athens was selected as the capital of Greece.
ΠDeveloped by wealthy aristocrats who settled here in neoclassical, two-storey homes, the area later began to attract a new crowd, including members of the koutsavakides, a notorious gang of louts who frequented the taverns of Iroon Square.
But history is never static, and today Psyrri is thriving, its youth clubs, ouzo bars, taverns and cafes attracting multitudes of Greek and foreign visitors. The area is famous for its annual Easter bazaar, which offers everything from agricultural and livestock products to leather goods.
Source: www.athensattica.gr