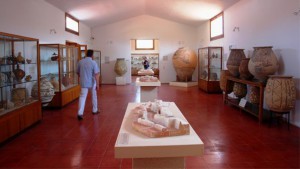 Founded in 1828, the Archaeological Museum of Aegina was the first museum established in the free Greek state.
Originally housed in the Eunardios School, it later moved to its current location next to the Kolona archaeological site.
With three exhibit halls, the museum displays artefacts from the Neolithic to the Roman era. A recreation of an early Helladic house, local ceramics from the seventh to fifth century BC, rare inscriptions and fragments from the ancient temples of Apollo and Aphaia are among the highlights.
The museum's first exhibit, portions of reliefs from the collection of Ioannis Kapodistrias deriving primarily from Rinia are still on display.
Source: www.athensattica.gr