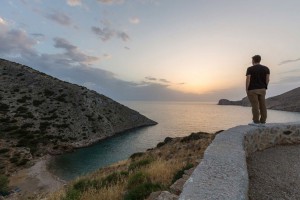 The Catholic Chapel of Agia Pakou, dominates on the top of the Hill of Galissas. It is a very picturesque chapel that seems to be hovering amidst the colours of the sky and sea, the white and the blue while offering magnificent views to the azure Aegean Sea and the sunset.
Access to the chapel is difficult through a rough path and a small flight of stairs. However the magnificent panoramic view will surely reward the visitor.
Source: www.syrosisland.gr
διαβάστε περισσότερα
After many intrigues and adventures, the Athens Catholic Church was finally erected, at the junction of Panepistimiou and Omirou streets. Although the lot had been purchased in 1847, and all necessary studies completed by the distinguished German architect Klenzef, construction on the majestic, three-clite basilica didn't begin until 1853 and was frequently interrupted due to the lack of funds. Then, in 1858 Lyssandros Kaftantzoglou undertook to resume the work, suggesting that a smaller, simpler version of the church be built, based on the original plans.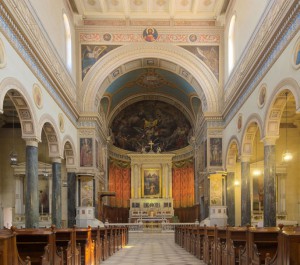 After eliminating the need for a belfry, and employing a more minimalistic approach, one more in tune with existing architectural forms of Athenian Neo-classicism, the church was soon finished. However, its gates didn't opened until 1865, three years after the ousting of King Otto. Additional work went on until 1875, when the Holy Altar, the entrance, the porch, the nearby archbishop's residence, and other secondary buildings had been added to the complex. The vitreaux decorations were built in Munich, in the late 19th Century, and even more improvements were subsequently added. After 1960, an extensive restoration was performed in order to return the church its original form.
Source: www.athensattica.gr
διαβάστε περισσότερα