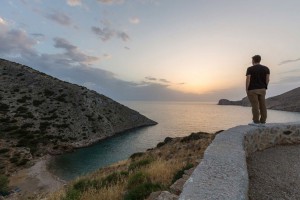 The Catholic Chapel of Agia Pakou, dominates on the top of the Hill of Galissas. It is a very picturesque chapel that seems to be hovering amidst the colours of the sky and sea, the white and the blue while offering magnificent views to the azure Aegean Sea and the sunset.
Access to the chapel is difficult through a rough path and a small flight of stairs. However the magnificent panoramic view will surely reward the visitor.
Source: www.syrosisland.gr
διαβάστε περισσότερα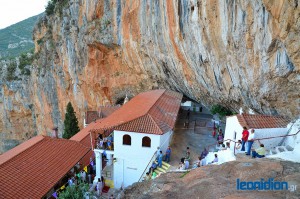 The Monastery of Eloni is a pretty old convent in the prefecture of Arcadia, built in the steep slope of Mount Parnon, at an altitude of 650 metres and about 17 kilometres from the town of Leonidio. Due to its exceptional natural beauty, the area around the monastery has been declared as a protected zone and it's included in the European Network Natura 2000 under the code GR2520005. It has a long gorge on the east side of the mountain -the gorge of Dafnon-, which starts from the village of Kosmas, passes through the Monastery of Eloni and ends up near Leonidio. The Monastery of Eloni is built onto a steep rock and it looks that it's literally hanging on the cliffs above the gorge. The view is just spectacular. The gorge is known for its rich flora, which includes some rare species, like the Potentilla arcadiensis, as well four endemic species that can only be found here, hence the need for their protection.
Source: www.mythicalpeloponnese.gr
διαβάστε περισσότερα