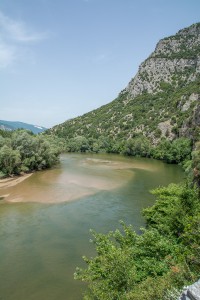 It is located at the borders of Kavala and Xanthi prefectures, south of the town of Stavroupoli, with area of 2,380 hectares. It is one of the most beautiful landscapes of Greece with great ecological interest. The visitors can see the plurality of rare plants such as the agriopaschalia, champerlea, red peony and ramnis of Rhodope.
At the same time, the region is rich in fauna, with nesting wolves, wild cats – which are an endangered species – otters, ferrets, and rare birds such as the black stork, the vulture, the Alkyon, the brown goose and the pygmy cormorant.
Through the Straits of the river passes the railway line that connects Thessaloniki with the cities of Thrace, following an enchanting landscape. But apart from the train there is an etched path, which starts from the village of Galanis and reaches the Stavroupoli and Livaditi.
Source: Eastern Macedonia & Thrace