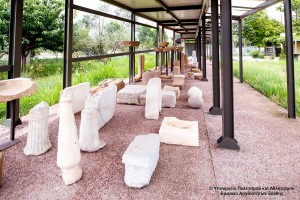 Archaeological site of Avdira, in the cape of Bouloustra includes the northern and southern precincts, the acropolis of the ancient city and its cemeteries, extending mainly to the NW, N and NE, dating from the Archaic, Classical and Hellenistic periods.
Place in the northern precinct preserved sections of the wall and one room buildings prior Clazomenia city of Asia Minor, 7th century BC., parts of the wall of Tiion, the 6th-5th century BC, boathouse of the same era, located on the
northeastern edge of the harbor before the region become a land of silting, the ruins of a sanctuary of Dimitra and Kori, dating to the 6th-4th century BC., and the Hellenistic cemetery. The main excavated and visited part of the the site is close to the current port. This is the western part of the southern precinct of the city, which distinguished the western wall, gate towers, roads and houses. First buildings that meets the visitor before entering the ancient city are houses of imperial times, they do not follow the Hippodamio system, the royal Christian cemetery of Polystylo, and luxurious bath ruins of imperial times, from which we can distinguish oval hall and stairway leading to the hypocausts. The residential phase is distinguished belongs to imperial times.
Apart from visitable parts of the space ther are much more excavated within a certain distance between them, but none of them the excavation has been completed. At the southern end rises the acropolis of the ancient city, which survives only part of the ancient wall, while the western end, the sea, is distinguished the western breakwater of the harbor. The second port city, eastern, located on the northeast side of the southern precinct. Here also distinguished the jetty and warehouses. Although the image of the ancient city is quite good, especially with regard to private residences, shops, walls and tombs of the inhabitants of the Byzantine of Polystylo, do not identified public buildings. The only public building that we know is the theater, which is located between the northern and southern wall, on a hillside, but they are so damaged they can not be visited. Right now the archaeological site of Avdira remains closed due to lack of security personnel. But there is a possibility to visit during working days and hours upon request.
Source: Eastern Macedonia & Thrace