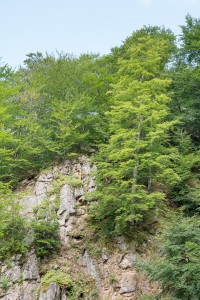 In the Rhodope Mountains, on the border with Bulgaria, there is the Drimos Forest, also known as Chaidou. The forest Chaidou is an earthly paradise with huge centennial beech of over 30 meters height. Apart from the beech forest there is also a large variety of vegetation that grows in the mountains of Rhodope, such as pines, firs, spruces and yellow lilies.
It is also a habitat of bears, wolves and deers. In the 80's the 180 acres of forest was declared "Natural Monument" and protected area. It can be seen several endemic plants of Rhodope, and other rare species of flora of Greece. There are also rare species of mammals and birds.
In Chaidou threre are bare fields and meadows and bare mountain slopes. Many streams and small rivers flow with fast and cold waters that constitute the zone of trout. It is a centuries-old beech forest, an area of 18 hectares and is located in the mountain Chaidou in the Central Rhodope Mountains, north of the city of Xanthi.

The height of the trees exceed the 30m and the diameter of the trunks is around 1 to 1.30 m, creating an imposing figure. In the region (Chaidou Mountain, Koula Mountain and the surrounding peaks) there are many rare birds and mammals. Foremost of these is the bear, deer, wolf, wild boar, fox, marten, the capercaillie, the nerokotsifes, the makrotsiklitares.
Source: Eastern Macedonia & Thrace