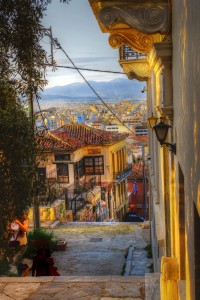 Τhe Anafiotika, one of the oldest neighbourhoods in Athens, was built on the northern slope of the Acropolis by workers and craftsmen from the Cyclades, mostly Anafi. They had flocked to the capital of the new, independent state of Greece, to work at the myriad construction projects underway at the time and, ideally, the massive project at King Otto's Palace. Local traditions mention Damigos and Sigalas from Anafi as being this neighbourhood's first inhabitants, followed soon by many more.
Tolerated by the authorities, these newcomers started building their homes as they always had in the Cyclades, with their flat roofs connected, and creating a labyrinth of narrow uphill streets, with little stairways carved out of the rock. The whole neighbourhood took on the appearance of a Cycladic installation.

From 1862 until 1922 the new neighbourhood was inhabited almost solely by islanders from the Cyclades, but then refugees from Asia Minor arrived, making this their new home as well. The inhabitants then began refurbishing and repairing even the smallest, most derelict churches in the area; Ag. Georgios of the Rock, and Ag. Symeon, even adding new belfries. In the 1950's, part of the neighbourhood was demolished to make room for archaeological excavations. Today only a few houses remain, declared as listed buildings by the state.
Source: www.athensattica.gr