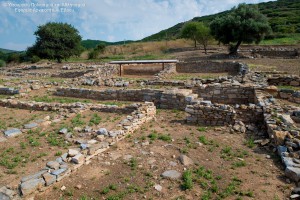 Messemvria-Zone, a colony of Samothraki the late 7th century BC, initially served the needs of the diocese in agricultural products and commercial communication with the Thracian tribes of the hinterland. But the original rural character passed almost early – in the 6th century B.C. – in a second place, as well as trading and maritime movement of goods proved to be very safe and profitable. So the city developed quickly to an important commercial center and was highly developed
during the 5th and 4th century B.C.
The financial health of the city reveals the amount of two coins, established for the contribution to the fund of the First Athenian Alliance. But the penetration of Athenian power in the region, the imposition to the colonies of Samothraki a rather heavy burden of tax and possibly events that are missing completely written historical evidence, led to the gradual decline.
According to some testimonies, Aesop, the great storytellers of antiquity had originated from this city. The archaeological site of Messimvria are remnants of the Sanctuary of Dimitra and the Temple of Apollo. On the west side lies the main part of town, where among other buildings, there are two public buildings, but also an impressive location where dozens of traditional earthenware jars kept.
Source: Eastern Macedonia & Thrace