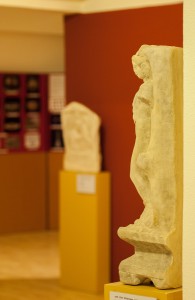 At the basement of the municipal refreshment of Spileo, at the "Koryfi" ("Top") area, in a beautiful natural environment, with the view of the plains of Arda and Adrianoupoli, there is the archaeological educational exhibition of Spileo.
In a space that was remodeled, after a museological study, with new design and proper lighting, the visitor can see a photographic exhibition of archaeological finds from the excavations of the mounds of Spileo and other areas of the northern part of the Evros.
The exhibition is accompanied by casts of sculptures, reliefs and inscribed tombstones, monuments models and visual material. The exhibition has also a lecture hall and it is suitable for school visits and training programs.
Source: Eastern Macedonia & Thrace