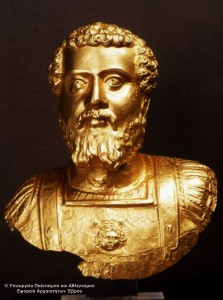 The hill of Agia Petra in south-eastern side of Didymoteicho has been largely associated with the Roman Plotinopoli. The city was founded by the Roman emperor Trajan, named in honor of his wife Plotina. This hill, in a strategic position, attracted the archaeological interest before the Second World War. In 1965, during the construction of a trench by soldiers was found a hammered gold bust of the Roman emperor Septimius Severus (193-21 AD), which is now kept in the Museum of
Komotini.
Systematic excavations conducted by the 19th Prehistoric and Classical Antiquities of Komotini the summer of 1977 and in the early 80s, while excavations in the area have been ongoing since 1996 until today. The excavation have revealed a large complex with wonderful Roman mosaics, which was in use from the 2nd until the end of the 6th century. It was also found part of baths with its hypocaust (the heating room under the baths). The most impressive of all the findings, is a large stone well of 12.67 m depth, the bottom of which has not yet been identified. In the northern part there is an opening that leads to a vaulted chamber, which was used to pump water from the well. The complex is a unique example of hydraulic architecture, it is associated with the water supply of the city and is probably contemporary with its foundation (early 2nd century AD).
Finally, what it is also interesting, are portable findings of the excavation, dating from the Neolithic to the Late Roman.
Source: Eastern Macedonia & Thrace