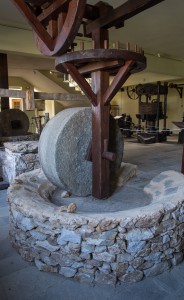 For 6000 years, for which data is available, the olive and olive oil are an integral part of the life of the Greeks and of course the residents of Thassos.
The olive tree and olive oil are part of the history and culture of Greece and Thassos as well. In order to link the production process with the history and culture of our country, there was created next to the mill facilities, an area of 400 sq.m. that house the Museum of Olive and Oil. The exhibition includes a representation
space of production methods, showroom & photo showroom of olive varieties, views and information space and the showroom of olive products. The museum is located close to the port of Prinos.
On the way to the village Rahoni, around 500 meters from the intersection of Skala Prinou, you turn right immediately after you pass the Beekeeping Association, and in about 100 meters you will reach the entrance of the property hosting the Organic Olive Oil Mills of Thassos and the Museum of the Olive and Olive Oil.
Source: Eastern Macedonia & Thrace
For 6000 years, for which data is available, the olive and olive oil are an integral part of the life of the Greeks and of course the residents of Thassos. The olive tree and olive oil are part of the history and culture of Greece and Thassos as well. In order to link the production process with the history and culture of our country, there was created next to the mill facilities, an area of 400 sq.m.... read more