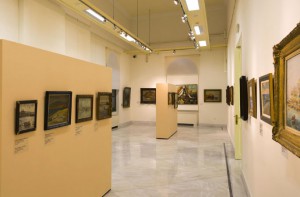 Opened in 1957, the Piraeus Municipal Gallery features theatrical costumes, photographs, programmes, and other theatrical material. While its permanent home at the Old Post Office is currently being restored, the gallery is temporarily housed at the Piraeus Municipal Theatre.
The collection includes a major representation of the sculpture of G. Kastriotis, an extensive collection of folk art by St. Lazarou and personal effects donated by Greek actor Manos Katrakis.
A special area is reserved for the works of Nikiforos Lytras, M. Axelos, P. Vizantios, K. Volanakis, G. Geralis and other artists from Piraeus.
Source: www.athensattica.gr