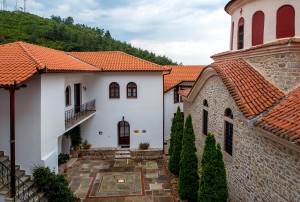 The Ecclesiastical Museum of Holy Metropolis of Xanthi and Margin housed in the east wing of the Monastery of Panagia Archangeliotissa. Monastery is northeast of Xanthi. The museum"s collection was set up in the early decade of 60 by metropolitan of that time of Xanthi Anthonio.
Exhibits of the museum are the collections of portable icons, silver utensils, manuscripts and printed liturgical books, but also from embroidered functional textiles and woodcrafts.
The exhibits date from
the end of Byzantine period until the early 20th century and present a panorama of the history of Byzantine and Post-Byzantine Art in Thrace area.
Source: Eastern Macedonia & Thrace