Vouraikos gorge starts at a distance of 3 km from the west foothills of mount Helmos and mount Panachaiko, and leads all the way to Diakopto. Vouraikos River springs from the mountains of Kalavryta and ends at the Corinthian gulf, near the beach of Diakopto. Along its way it has created a deep, unique gorge.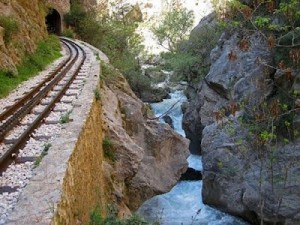 As it runs down to the sea, it receives the waters of several streams forming small lakes and numerous cascades. Its width is constantly changing. The narrowest spot, "Portes", is located close to Zachlorou. According to the myth, there was a rock there, blocking Hercules passage. Hercules cut the rock in two and created this gateway. The rack railway passes through the gorge.
The region is protected under the European Natura 2000 due to its abundant flora and fauna.
Source: www.mythicalpeloponnese.gr