Lousios and Alfeios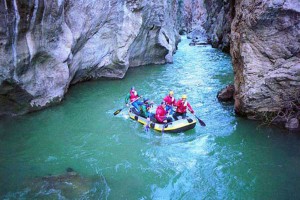 These two rivers, Alfeios and its tributary Lousios, flow along a continuously changing landscape in a breathtaking scenery of stunning natural beauty. The activities organized by various associations and clubs aim to bring visitors into close contact with the unique beauty of this region, also combining sports and recreation. Rafting is a very pleasant way to explore the region, regardless of your familiarity with the sport, since there are routes for every level; from beginners to highly experienced rafters.
The routes normally take approximately three to four hours and pass through gorges and natural tunnels, formed by trees, creating a stunning backdrop. The lush vegetation, the various and impressive species of birds, like falcons and herons, the stone arched bridges, the waterfalls that flow into the river, as well as the unique natural sculptures the water has carved into the rocks, all contribute to the amazing experience you will have in Arcadia. It is certainly something you don't want to miss.
Ano Lousios
Ano Lousios also offers one of the most difficult, yet extremely interesting rafting routes in Greece. It's suitable only for very experienced rafters or for those who are trained to become rafting guides. When the river is swollen, rafters need to be particularly cautious, since the waters become impetuous.
Erymanthos
Erymanthos is another tributary of Alfeios, as well as a natural boundary between the prefectures of Ilia and Arcadia, and is yet another river suitable for relatively difficult descents. Previous experience is recommended, as well as a pretty good physical stamina. The descent lasts for approximately five to seven hours and there are two recommended starting points: the first from Tripotama and to Vidiaki -after 15 kilometers- and the second from Vidiaki to Elaia -after 8 kilometers.

Other activities
In addition to rafting, the rivers are also ideal for various other activities. Adventurous types can indulge in hydrospeed and enjoy a unique experience with just a pair of fins and a board. You can also go for monoraft, where you cross the river with a one-seater raft, which is something equally exciting. You can also go for rappel and cross the gorges with special ropes, which will help you descend to the vertical waterfalls.
The less adventurous will enjoy unique routes, exploring the shores of the rivers, as well as the surrounding areas with the lush vegetation and scenic settlements. Whatever you decide to do, you can obtain information, guidance and the necessary equipment from any relevant association, club or company in the region.
The routes are suitable for every level of experience. You can address one of the numerous associations or clubs that will recommend the right one for you, based on your physical stamina and experience. They will also provide you with the proper equipment, as well as guidance for your safe descent.
Source: www.mythicalpeloponnese.gr