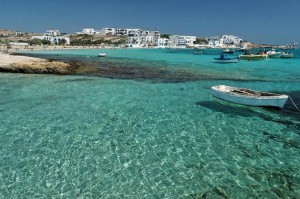 This small, majestic island on the southern edge of Peloponnese is considered to be one of the most famous touristic destinations for the summer period and its characteristics are the beautiful sandy beaches and the crystal waters. It was named Elafonisos (elafi=deer), after the plethora of red deer in the area. According to Pausanias, there were also a lot of sanctuaries dedicated to Goddess Artemis.
At the picturesque port of Elafonisos there are always ships coming and going.Only ten minutes away from Neapoli, this natural paradise reminding of the Caribbean, is easily accessible. The whole island has only two settlements, the first of which is Elafonisos, with the port, the fish taverns and the church of Saint Spyridon and the second one is Kato Nisi, with the beautiful beach of Panagia and the homonymous church.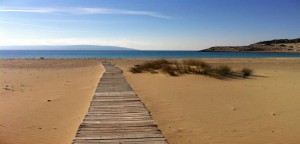 However, the best beach on the island, responsible for its worldwide fame is Simos' beach at the Saraniko bay. It is an endless, pure white, sandy beach with sapphire waters that is one of the most magnificent beaches of the Laconic Peninsula and the Mediterranean Sea as well.The sand dunes with the bushes, the cedar forest of the area and the rare habitats are protected by the NATURA and constitute the main characteristics of the area.
In Elafonisos you will find few rooms to let, but the majority of visitors choose the organized camping that is located behind the breathtaking Simos' beach. In the summer, the beach is filled with visitors and it is also a very popular attraction for yachts and sailing boats. The small taverns at the port serve fresh, local fish, seafood and lobster spaghetti that can satisfy even the most demanding customer. Explore Simos' cedar forest, enjoy the impressive sea bottom, the pure white, sandy beach and the way the sunlight hits the crystal waters.Except for Neapoli, Elafonisos is also connected coastally to Gytheio.
Source: www.mythicalpeloponnese.gr