The E-path starts at the Pyrenees of Spain, it crosses central Greece, and ends at Larnaka, Cyprus. The southern part of the path begins in Corinth and through Tripoli enters Laconia, crosses Parnon, Sparti and Mystras and climbs the slope of Taygetus and ends in Gytheio.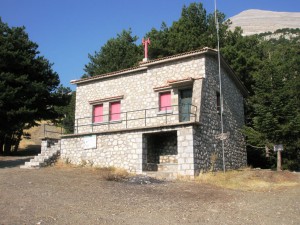 The path follows the route Agios Petros – Karyes – Vresthena – Theologos – Sparti – Mystras – Faneromeni Monastery- Anavryti –- Lakomata – Taygetos shelter– Pentavloi – Agios Dimitrios – Arna – Agia Marina – Monastery of Our Lady Giatrissa – Katsania – Gytheio. Through Kapsia village in Tripoli, the path enters Karyes village on the slopes of Parnon and crosses the forest ending at Vresthena.It passes through the city of Sparti, leading to the fortified town of Mystras with its byzantine churches and the narrow stone alleys. After seven hours of trekking, accompanied with a great view of mount Taygetus, the path continues to Anavryti and ends at the mountain shelter of Taygetus, where you can spend the night. Through the forest tracks and the numerous water sources the path comes to Pentavloi, a region of special natural beauty that follows Anakolo gorge. Near the river of the gorge, the old bridges and the traditional water mills the path continues to Arna and the prominent monastery of Our lady Giatrissa (the healer) to end at Kastania. From this point the path crosses traditional settlements, caves, hills, water springs, and ravines until it reaches the town of Gytheio. On its way to Gytheio, the European path E4 intersects with the national path E32 and many other local paths that lead towards the summit of mount Parnon and Taygetus and passes through forests and significant byzantine monasteries and traditional settlements.
The best period for one to walk the path is during the spring and the autumn, equipped with the adequate climbing equipment. The signs and the marks of the path are distinguished in yellow and black color. The Hellenic Federation of Mountaineering and Climbing has established and maintains the E4 path which is designated by the European Ramblers' Association.
Source: www.mythicalpeloponnese.gr