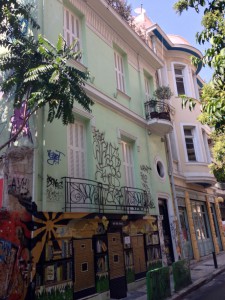 Formed after the liberation of Athens from the Turkish occupation, Exarhia was one of the first new districts established in the city. Located at the foot of Strefi hill, the district is bounded by Ippokratous, Kallidromiou, Bouboulinas and Solonos Streets.
Previously known as Pytharadika, after the laboratories on the banks of the Kyklovoros River, the area later adopted the name of Exarhos, from a respected grocer from Epirus who ran his business here on Themistokleous Street for many years.
In the mid-19th century, the district was absorbed into the city's urban planning, and began to develop rapidly. The area's narrow streets, first built following the Revolution of 1821, were home to student riots in 1901 as well as major battles during World War II.
Today, due to its close proximity to both the University of Athens and the Technical University, the area is filled with students. Exarhia Square was developed around 1959 and features the Blue Building, the old Vox cinema, the Floral cafe and many other interesting landmarks.
Tailored to the students and scholars who live here, the district is also filled with bookstores, and press and publishing houses. Although the area has been somewhat neglected in recent years, its inhabitants and shop owners are making every effort to restore it to its previous character.
Source: www.athensattica.gr