The Ancient Theater of Epidaurus is famous for its exceptional acoustics, its absolute symmetry and the way it "sits" in the landscape. It is considered as the biggest and most beautiful amplifier made of stone. It was built in the 4th century B.C. on the west side of mount Kynortion by Polykleitos and its capacity was extended in the 2nd century. Every summer, in its 14.000 seats, it welcomes the lovers of ancient drama who come to enjoy the plays of great tragic and comic poets.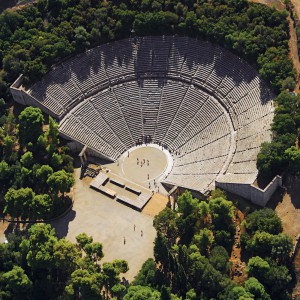 Alongside the Sanctuary of Asclepius, the exceptional theater of Epidaurus is built amphitheatrically on the west side of mount Kyniorto and it is one of the best preserved theaters of Ancient Greece.
It was built in the 4th century by the great architect Polykleitos and it was initially designated for musical and singing contests and ancient drama performances linked to the worship of Asclepius. In the 2nd century B.C. the main theater (cavea) was extended to 14000 seats. In the following centuries, unlike many other ancient theaters, its form (cavea, orchestra, stage) did not change and remained continuously in use.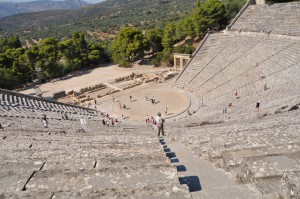 However, in 395 A.D. the Goths caused severe damage to the place, while in 426 A.D.. Theodosius II banned all activities at the sanctuary of Asclepius and the sanctuary was closed permanently. This great structure was brought to light 15 centuries later, in 1881, by the excavations of Panagis Kavadias and the Archaeological Company. Restoration works began in the 20th century in order to preserve this exquisite monument.
Today the theater is renowned for its perfect architecture and its astounding acoustics. It is considered to be the most perfect and great stone loudspeaker of the world. The three-section theater structure is perfectly represented in this theater. The main theater (cavea) consists of 55 rows of seats divided in two sections. The orchestra preserves its circular form while only the foundation is saved from the skene. On both sides columns of ionic style connect the skene with the cavea. Every summer since 1955, the year in which the Epidaurus Festival was established, great Greek and foreign actors perform ancient dramas and modern plays here.
Source: www.mythicalpeloponnese.gr