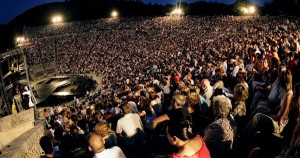 What is the Athens Festival? A great celebration that has lasted 56 summers, and that has hosted some of the leading lights of theatre, music and dance. From Mitropoulos and Callas to Rostropovich, Pavarotti, Leonidas Kavakos and Dimitris Sgouros. From Theodorakis and Hadjidakis to Savvopoulos, Protopsalti, Dalaras and Marinella. From Rondiris and Koun to Streller, Peter Hall, Noh theatre, Bunraku puppet theatre, and the Peking Opera. From Balanchine to Pina Bausch, and from Nureyev and Fonteyn to Martha Graham and Alicia Alonso.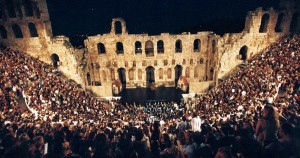 Above all, however, it is a venture with an eventful past often clouded by events in Greece's recent history. A venture that, over the last two years, has taken on a youthful vitality, and openness. But how did we come to this point?
Until 2005, Hellenic Festival events were staged at the following venues: the Odeon of Herodes Atticus, the two ancient theatres at Epidaurus (at the Sanctuary of Asklepios, and at the ancient city), and the Lycabettus Theatre. In the summer of 2006, the company began a programme of expansion regarding the venues at which its performances are staged: property granted by the National Bank of Greece allowed for the creation of a new theatre through the renovation of Building D at the former Tsaosoglou Factory at 260 Pireos Street, while other venues around the city were used for the first time, such as Irini Pappas' "Scholeion", the Kotopouli Theatre, the Benaki Museum, the Faliro Indoor Sports Hall, the Porta Theatre, and others. A new theatre, co-funded by the Ministry of Culture and the Hellenic Festival, was created in 2007 through the renovation of Building H at the Peiraios 260 complex.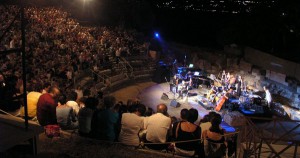 In addition to the creation of new venues for the staging of its performances, the company aims to broaden the audiences that attend its events, to highlight and promote the work of young artists, and to present contemporary trends in dance, music and theatre through the invitation of, and collaboration with interesting artists and performance companies. Efforts are being made to fall in line with the major European festivals of this kind.
Programme: click here
Tickets: click here
Venues

Website: greekfestival.gr
What is the Athens Festival? A great celebration that has lasted 56 summers, and that has hosted some of the leading lights of theatre, music and dance. From Mitropoulos and Callas to Rostropovich, Pavarotti, Leonidas Kavakos and Dimitris Sgouros. From Theodorakis and Hadjidakis to Savvopoulos, Protopsalti, Dalaras and Marinella. From Rondiris and Koun to Streller, Peter Hall, Noh theatre, Bunraku... read more
The Nautical Club of New Epidaurus and the Nautical Sports Club of Peace and Friendship organize every June a sailing race in the deep blue sea of New Epidaurus and the Argosaronic Gulf. The Open Sea Sailing Race "Epidaurus" is so vivid, passionate and intense that it will definitely move you. Come to the beautiful port of New Epidaurus and give a very warm applaud to the contestants in a great... read more
Frachthi cave is a world famous monument situated at the wild rocky mountain opposite the village Koilada. Excavations brought to light numerous findings among which the oldest human skeleton attesting its continuous occupation for more than 20.000 years. Walk through the beach Lampagianna, climb to the cave and enjoy the view. The world famous Frachthi cave is located next to the sea, opposite... read more
You can dock your boat at the beautiful and windless port of Porto Heli and enjoy your stay in this cosmopolitan location. The bay is full of yachts and cabin cruisers savoring the warmth of this charming bay. The cosmopolitan town of Porto Heli is one of the most famous summer tourist destinations in Argolida. Its port is located in a closed and protected gulf that protects the boats from wind.... read more
Thermisia lagoon is an important habitat of rare migratory birds. It is a serene and unique lagoon surrounded by a breathtaking landscape. Located in the picturesque village of Thermisia, to the east of Ermioni, the lagoon took its name from some hot springs that existed in the area. The Greek traveler Pausanias mentions a temple dedicated to Demeter Thermasia. This magnificent lagoon was used as a salt... read more
Every year since 1995, the "Epidaurus Festival" is organized, offering the visitor the opportunity to watch various performances at the imposing ancient theater of Epidaurus. So if you love ancient drama, you must visit this picturesque theater especially on a cool Friday or Saturday night under the moonlight. While it gets dark, you will be able to enjoy the amazing lyrics of the ancient dramatists... read more
διαβάστε περισσότερα