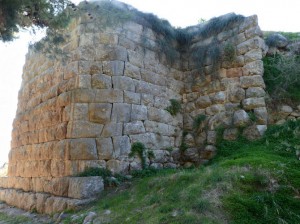 The charming and mystic acropolis of Ancient Asine is situated a few kilometers away from Tolo. It is built on a rocky hill called Kastraki, and it has a view to the sea. It was praised by Homer and other great poets and it became known worldwide by Seferis when he was awarded the Nobel Prize. The walls of the acropolis and the tower date back to the Hellenistic Era.
The excavations documented that the site was occupied for many centuries and they brought to light the great Mycenaean cemetery of Barbouna on the hill bearing the same name. A ceramic face mask of the King of Asine was discovered among the other findings.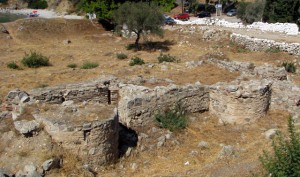 Next to the cosmopolitan town of Tolo, the acropolis of Ancient Asine lies suspended on a huge rock 52 meters tall and 330 meters long overlooking the coastal roads. A few meters towards the west lies another archaeological site, the Mycenaean necropolis of the Barbouna hill. This land was praised by many poets. Homer exalted its naval power and the grandeur of its almighty King. Its fame reached the whole world when Greek poet Seferis was awarded the Nobel Prize.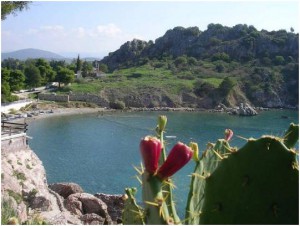 Ancient Asine was inhabited for many centuries. Its king participated in the Trojan War with a great naval power. In 1104 B.C. it was conquered by the Dorians who merged with the local population and created a powerful kingdom. However, in 740 B.C. it was destroyed by the Argians who put an end to its prosperity. The citizens of Asine left the town and settled in Messinia. There they founded the new town of Asine (Koroni). The town started regaining its past glory. The cyclopean walls and the tower date back to that period (3rd century B.C.), but in the subsequent centuries they were modified by the Byzantines, the Venetians and the Italians.
The excavations carried out between 1922 and 1930 were continued in the 70s and they document the continuous occupation of the town. They brought to light ruins of buildings and vases of the early Helladic, middle Helladic, Mycenaean, Geometric, Archaic and Hellenistic periods as well as the cemetery of Barbouna with the tombs of its mythical heroes. The offerings found document the commercial relations between Asine and other towns of the Aegean and Crete as well as the habits of its citizens. Among the findings, a ceramic funerary mask that is thought to belong to the "Ruler of Asine". It is exposed in the Archaeological Museum of Nafplion.
Source: www.mythicalpeloponnese.gr