Located 15 km from Kavala in Krinides and is one of the most important historical sites in the area. Founded by the father of the Great Alexander and took his name.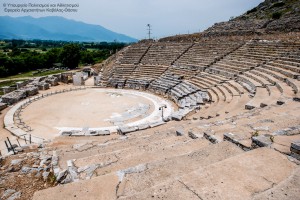 Includes, the ancient theater of Philippi (where every summer is organised the homonymous Festival), the Forum and the commercial market, the palaestra, the islands with private houses and early Christian churches. It was founded by Thassian settlersin 360 BC. Very soon, in 356 BC, Thassians, as to face the local Thracian tribes sought the help of Philip II, the father of Alexander the Great. Philip B. recognizing the prime location of the city, gave it his name.
The passing of the Egnatia Via through the Philippi area in the 1st century. BC gave the greater weight to the city, and turned it into a benchmark of the region. In 42 BC the Battle of Philippi in the two low hills outside the western city walls caused changes in local and global level. The win of Octavian and Antony, continuing of the policy of Julius Caesar marked the end of democracy , openind the Octavian way for the empire. The site of philippi became a Roman colony (Colonia Augusta Julia Philippensis) who flourished in the second century in 20 sentury AD.
he 49/50 AD Apostole Paul visited the Philippi and founded the first Christian community in Europe. The memory of the visit and his imprisonment remained deeply in the memory and gave an ecumenical Christian pilgrimage character. The city is shrinking in the early of 7th century because of large earthquakes and Slavic raids. Survives in Byzantine times as a fortified castle, keeping its importance due to its location on the main East-West artery land. The complete abandonment occurred with the Turkish conquest in the late of 14th century.
Source: Eastern Macedonia & Thrace