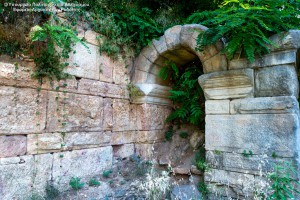 Excavations of the site started in the late 1960's and have brought to light:
The theatre of the city, in which two architectural phases are distinguished, dated to the Hellenistic and Roman periods.
A sanctuary, probably of Dionysos, dated to the 4th century B.C. , a large Hellenistic house with a mosaic floor, two extensive building complexes, most probably of public function, also dated to the Hellenistic period, parts of the fortification wall of the Classical city.
It was constructed in the Hellenistic period and remodelled in Roman times. Preserved are: three rows of stone seats of the cavea, the central and the horseshoe-shaped conduit of the orchestra, and the building of the Roman skene.
Source: Eastern Macedonia & Thrace