The ancient Athenian Supreme Court once occupied this rocky hill just northwest of the Acropolis. Judging cases from murder and arson to sacrilege, the court even made decisions on new religious ideas.
It is believed that this location got its name from one of two sources, the first being the murder trial of the god, Ares who, according to mythology, was tried on this very spot by Kekrops, King of Athens, for the murder of Allerothios, son of Poseidon. The second theory is that it came from the temple of the Areian Erinyes, the sinister deities of punishment, scruples, and revenge. Mythology also tells us that the Areopagus also convicted Orestes for the killing of his mother Clytemnestra, and was saved by the vote of goddess Athena. The Athenians then referred to the Erinyea as being humble and pacified.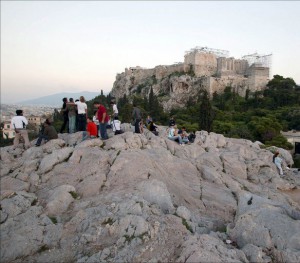 From the Mycenaean era until the Geometrical years (1600-700 B.C.), the northern slope of the hill was used as a cemetery. Subsequently, during the late Roman era from the 4th to 6th century A.C., four mansions were built on the Areopagus, replaced in the 15th and 16th Centuries by a church honouring Saint Dionysius Aeropagite, the first Christian bishop of Athens.
Source: www.athensattica.gr