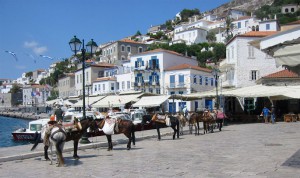 The picturesque town of Hydra, the capital and port of the island, has been declared a "preserved historical site." Located in the center of the island, its magnificent mansions and simple, stone-built houses overlook the entrance of the famous port. During the War of Independence in 1821, Ibrahim Pasha called the island "Little England," due to the huge fleet of 186 ships moored in the harbour, their well-trained crews ready for battle. And the island produced its own share of heroic sailors and sea captains, warriors like Miaoulis, Tobazis and Sachtouris.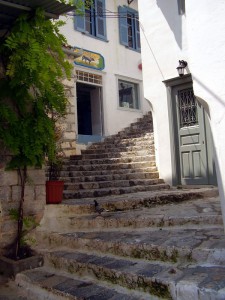 Since the 1950s, Hydra has been the favorite destination of the international jet-set. Picasso and Sagal walked these narrow streets, and Sofia Loren swam in these waters. Hydra's numerous tavernas have served the famous, and infamous alike, from personalities of international politics to business tycoons.
Cars are not allowed on Hydra. All transportation is performed either on foot, or atop the traditional mode of transport here: The ubiquitous little donkeys, who are considered to be a very special species, since they are familiar and comfortable with climbing up and down the hundreds of steps around the island's streets. Numerous cultural events are held in Hydra each year, including the Annual International Convention for Rebetiko.
Source: www.athensattica.gr