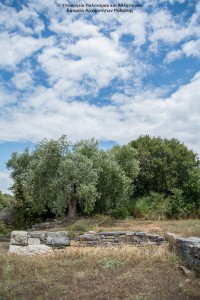 The settlement of Maronia spread over a vast area, from Ismaros Mountain to the Ptelea Lake. Several monuments are today labeled and countless others are scattered throughout the olive groves and the mountainous landscapes of Ismaro.
Worth seeing sights are the fortification of Agios Georgios (the megalithic Gate), the complex of Roman times, the walls of the citadel Agios Athanasios (the walls had an estimated length of over 10 km!) and the huge ancient carved granite winepress.
There is not a labeled road but 4×4 vehicle can proceed even 700 meters close to the site. It is a three minutes' walk following the signs or the left arrows and you will arrive at the Megalithic Gate with its monolithic representations. Walking right for 15 minutes and following the signs you will reach the carved winepress.
Source: Eastern Macedonia & Thrace