The Castle in Pythio (of the Byzantine Empythio) is located 16 km north of Didymoteicho, near the railway bridge, which enters from the Greek to the Turkish ground.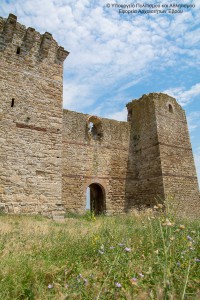 It was built from 1331 to 1341 by Ioannis Kantakouzenos VI, who used it to control the crossings from the valley of the Evros river. Back then, this great river was navigable almost until Filipoypoli and it was the main commercial artery from north to south.
Today, out of the small sized, but strong fort, only two large
towers and some elements of the fortification have survived. This fort was occupied by the Ottomans in 1361, who used it as a base for operations against the Didymoteicho.
Source: Eastern Macedonia & Thrace
διαβάστε περισσότερα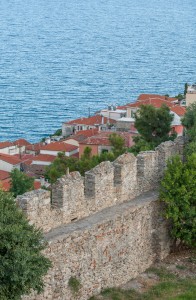 The castle of Kavala is at the top of the peninsula where the old city is built.
During Byzantine times and after them successive reconstructions and interventions in the fortification by the Byzantines, Venetians and Turks, have been done.
The castle (citadel) in its present form, was built in the first quarter of the 15th century, based on Byzantine foundations.
In its external theater are held cultural events.
Castle's Presentation Website: www.castle-kavala.gr
Source: Eastern Macedonia & Thrace
διαβάστε περισσότερα
Located on a hilltop in the village Castro, overlooking Elis plain, Chlemoutsi castle is one of the most imposing castles in the Peloponnese. Its name is of Slav origin and it resulted from a distortion of the word "Chelmos" or "Chelonata" which is the name of the hill on which it is built. There is evidence of a palaeolithic and middle Helladic settlement (10.000 b.C and 2.000 b.C).
The most powerful fortress of the Frankish Principate of Achaea was established in 1220-1223 by Geoffrey I Villehardouhin. In order to cover its immense construction costs, the French General had a dispute with the Principate's latin clergy. During the Turkish rule it served as the headquarters for the Turk officials, voevoda and cadi. In 1427, Constantinos Palaeologos gained possession of the castle and used it as a military and administrative center. In 1460, it was conquered by the Ottomans and in 1867 by the Venetians who ruled it until 1715 when it was recaptured by the Ottomans.
Consisting of two parts, the Chlemoutsi castle is a fine example of fortress architecture. The horseshoe-shaped outer enclosure surrounds the inner part, located at the southeast side, on the highest spot of the hill. The total length of its walls is about 1km long. Alongside one can see remains of buildings dating back to the same period as the castle itself (13rd century), like cisterns and traces of a water piping system. The inner enclosure comprised of the Castellan residence, reception halls, kitchens and the guard's quarters, while cisterns, chimneys and storage rooms are preserved in the two storey rooms.
Source: www.mythicalpeloponnese.gr
διαβάστε περισσότερα